And if the kids receive NO TREATMENT as most shelters are, then they too will identify with one parent or the other. If the parent is differently abled, it is most likely going to be the Perpetrator, who APPEARS stronger. Think about it.
My daughter did so. She no longer lives with me, at my insistance. The choice is hers to seek help. She will not. It is not her fault that the shelter staff was abusive of my disabilities. But it IS her choice to NOT seek help to stop the physical, emotional and psychological abuse about my disabilities, and myself. We know that kids can make this choice, to identify with the perpetrator. But when he did that SHE KNEW IT WAS WRONG. When she saw the staff doing so, literally GRABBING MY EQUIPTMENT and taking it away from her, destroying our plans to celebrate womanhood on her 13th Birthday, she simply saw it as hopeless. Can you blame her? I do not. But I must go on alone. I cannot be abused. And slowly she sees this as well. She is still terrified to go to a shelter to seek help, which is natural. She remembers how she was treated, something we had planned all ALL of her life, destroyed. We MUST help children. We must set appropriate examples!
There is no help where we live. But we can and must change this. We must make shelters accessible for women of all cultures. The Racism I saw there forced me to leave the first shelter, until I found a better one. These things are all parts of human nature. And they are not going away when someone begins to work in a stressful situation, a battered woman's shelter. But Power and Control are addictive to anyone, even shelter workers.
And I have ideas and plans to do so. Ready to join me in exploring these?
Good, I thought so! Let's Go...


Copyright November 4, 1999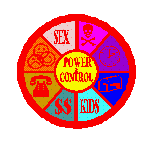 Domestic
Violence
As an
Addiction

Blainn Nelsons'
Webpages
Blain Writes
Firsthand